5 Actionable Tips to Create Mobile Friendly Job Applications
Knowing that mobile job applications will be more often the first choice from talent
Smartphones and mobile devices have been part of our everyday life for more than a decade now. And even though candidates want mobile friendly job applications, recruiters haven't adapted. It's time to change.
So, here are my 5 best actionable tips to enable mobile friendly job applications so you can give your applicants the candidate experience they need.
First, let me tell you about the increase of mobile job applications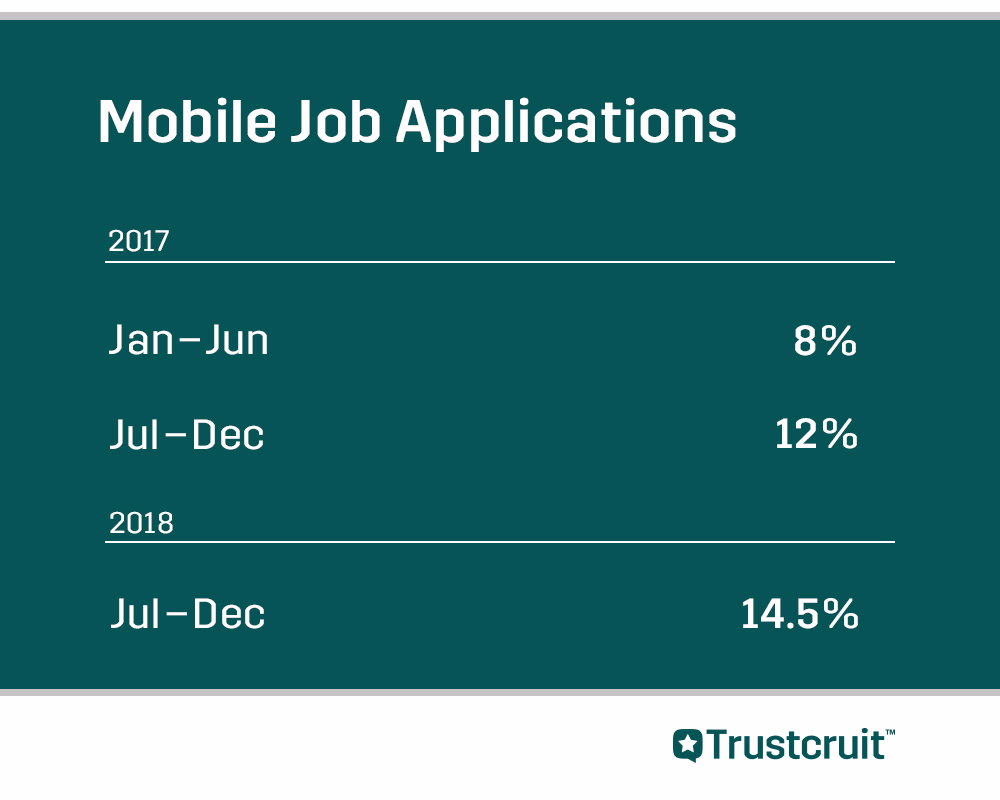 The first and second half of 2017 had an exploding number of mobile job applications with an increase of 50%, from 8% to 12%.
During the first 6 months of 2018, the increase continued, although not the same 50% increase level. This time the increase was 21%, which is still really high.
So, what does this mean for you who want to recruit new employees, which I assume you want since this is necessary to grow.
To put it simply. With the rise of smartphones, the number of mobile applications increases, which results in that you need to adapt and make your job applications mobile friendly. Exactly as maybe your customers expect your website to be mobile friendly, your candidates need to be able to apply to an open position through their mobile devices.
Here are my best tips to get you going
5 Hands-On Tips to Create Mobile Friendly Job Applications
1. Don't write job ads with the same length as a research paper
Your job ad should only contain what's really essential.
Candidates on a mobile phone will get lost in long texts that may not even be relevant. And in the worst-case never find out how they apply or get bored halfway and leave for your competitors much more on-point job ad copies.
2. Use bullet points for the critical things candidates need to know
Bullet points are often easier to read on a mobile device. Use bullet points to highlight the most critical parts of your job ad that the candidates cannot miss.
E.g. information about some specific skills needed or your office location.
3. Use "no-data-entry" questions for skills/education and other related questions
What I mean with this is that you shouldn't let the candidate enter tons of text about their skills and education. It's hard on a small screen and can be solved much easier.
Step 4 can help you on the way here. As well as drop-down lists with prefilled information e.g. asking How much experience do you have in accounting? giving options like Worked with it professionally for years and Studied at the university.
4. Activate Apply with LinkedIn
Apply with LinkedIn let your candidates fetch information like job experience or education from their LinkedIn profile directly instead of having to fill in plenty of information or upload a CV.
And instead show the information they've already entered online somewhere else (LinkedIn), thus making it easier to apply using a mobile device. This will also result in an increase of mobile job applicants.
5. Don't expect the candidates to take their time to create an account…
Creating an account on a computer takes time, can be tricky, and also a step where the candidate has to give up some of their private information.
Creating one through a mobile phone is even harder, and candidates do not want the struggle to create one. A long account creation process will make you lose potential candidates that could have been your future colleagues.
Taking the first step to mobile friendly job applications is easy
Knowing that almost 15% (and growing) of all candidates applies using their mobiles and tablets, no one can ignore this anymore.
Do you agree with me?
You should! And if you're unsure about how to get started, start small. Make little tweaks to your job ads and collect feedback at the same time to track the impact of your changes.
Want to get more actionable tips on how to improve the different steps of your recruitment process and candidate experience? Download our Ultimate Guide to the Candidate Experience.
Get notified on new blog updates
+ get our popular candidate experience ebook for free