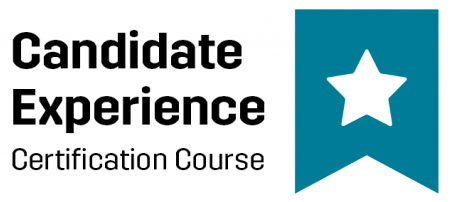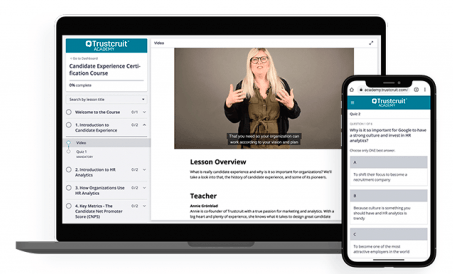 3 hours (on-demand)
9 chapters (videos + quizzes)
Earn certificate
Learn the fundamentals and how to work with candidate experience and recruitment successfully in your organization. Including learnings about modern recruitment, HR analytics, and candidate feedback. Complete online at your own pace and get a great start to boosting your employer brand.
Language: English with Swedish subtitles
Have a coupon? Redeem it at checkout.
Why get certified?
Understand the fundamentals of candidate experience and HR analytics to improve your employer brand.
Show others that you are knowledgeable within candidate experience through your certificate
To improve your organization's recruitment process and candidate experience.
Who can get certified?
Recruiters and recruitment teams who want to become data-driven
Hiring managers who want to attract and hire better talent
Sales and business developers at a recruiting or staffing company
Executives who want an understanding of how candidate experience affect whole organizations
How it works
Complete every video lesson and pass every quiz at your own pace
Pass the final exam
Share your earned certificate with colleagues and professionals on LinkedIn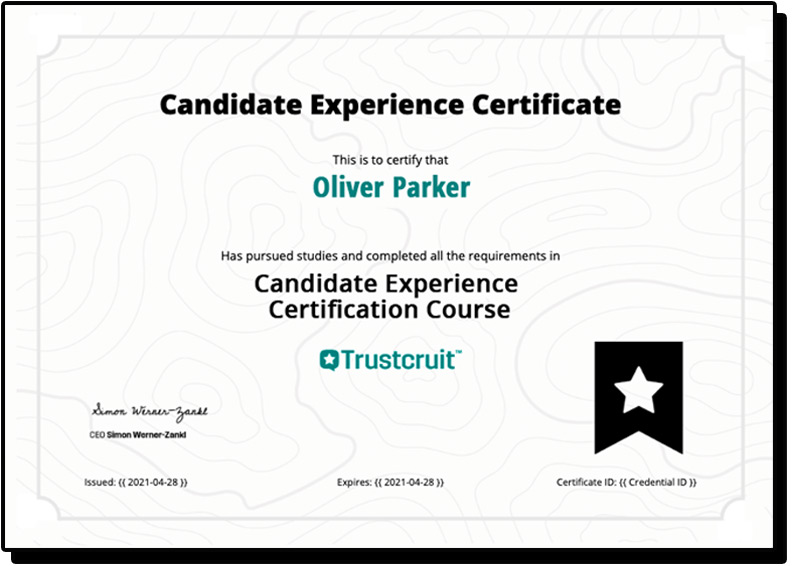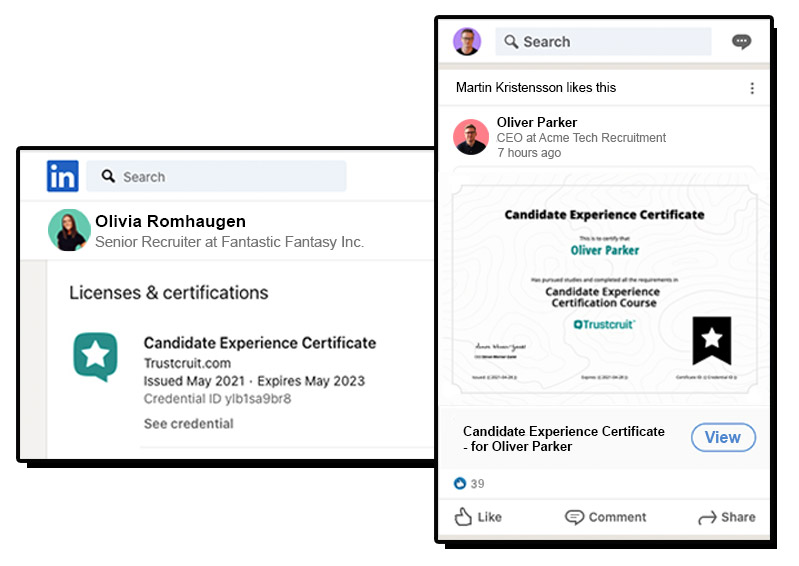 Course chapters
Welcome to the course

Course Intro
Your teachers Simon and Annie will guide you through 11 interesting videos (including transcripts), followed by quizzes after each of the 9 chapters.

1. Introduction to Candidate Experience

Video
What is really candidate experience and why is it so important for organizations? We'll take a look into that, the history of candidate experience, and some of its pioneers.
Quiz 1


2. Introduction to HR Analytics

Video
HR analytics (people analytics) is the foundation of candidate experience. In this chapter, we'll go through the basics of it, what problems it helps you to solve, and its role in organizations.
Quiz 2


3. How Organizations Use HR Analytics

Video
Let's put theory into practice! We'll take a look at some of the most successful organizations in the world and how they use HR analytics to attract, keep and create more efficient employees. But also how it affects their revenues.
Quiz 3


4. Key Metrics - The Candidate Net Promoter Score (CNPS)

Video
Candidate Net Promoter Score (CNPS), the one key metric to rule them. And the key metric used to measure candidate experience. Simon will tell you how, but also how it is linked to your growth and competitors.
Quiz 4


5. 13 Key Metrics That Affect Candidate Experience

Video – Part 1
13 out of the 20 most important HR KPIs are connected to candidate experience. In Part 1 we will go through application completion rate, fill rate, applicants per hire, qualified applicants per hire, time to hire, and time in workflow steps.
Video – Part 2
Part 2 will handle yield ratio, source quality, source of hire, sourcing-channel cost, cost per hire, first-year churn, and success ratio. Yes, they are many but very important. Pro tip: To ease your overwhelmed mind, download the transcripts as these include calculations and more.
Quiz 5


6. Application

Video
Application – the step when your candidates enter your recruitment process, but also a step where many leave due to technical complexity and unnecessary long application forms. This chapter will help you tackle them.
Quiz 6


7. Interview

Video
Interview, and time to actually meet candidates for real. We'll give our best practices on how to prepare and act as an interviewer. Plus a secret – candidates actually like video interviews better than in-person interviews. It's true!
Quiz 7


8. Candidate Rejection

Video
Saying no to candidates is never fun, which also means that many avoid doing this. This makes it even more important for you to do it. We'll tell you how!
Quiz 8


9. Onboarding and Hiring Managers

Video – Onboarding
You finally hired a candidate, and it's time to get this person onboarded. But where to start, and who should be responsible for this in a busy organization?
Video – Hiring Manager
Hiring managers do not have the same skillset as recruiters and might need support when hiring. In this chapter we'll tell you what support they need, but also what hiring managers actually do better than recruiters.
Quiz 9


Course Evaluation

Evaluation Survey
Before taking the final exam, we would appreciate you giving us your feedback so we can continue to improve the course. It only takes 1 minute of your time and is very valuable for us.


Final Exam

Final Exam
The Final Exam consists of 25 questions, and you need to get 18 of them right to pass. Remember you can always retake it if you fail. Good luck!
Teachers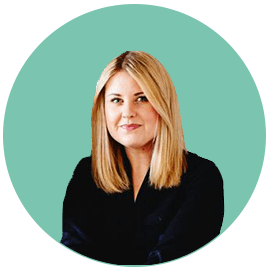 Annie Grönblad
Annie is co-founder of Trustcruit with a true passion for marketing and analytics. A big heart and years of experience makes her know what it takes to design great candidate experiences. Go to LinkedIn profile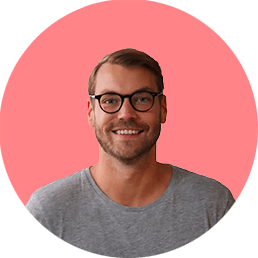 Simon Werner-Zankl
Simon is CEO at Trustcruit and a huge coffee ☕️ fanatic. With years of knowledge in HR analytics, candidate experience, and how the two affect the employer brand, he knows what is needed for a good recruitment process. Go to LinkedIn profile